Case Study: Embedding a Mindfulness-Based Wellness Program into a Busy ER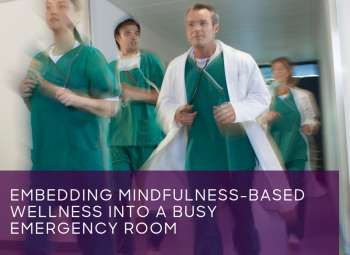 When the busiest medical emergency department in Australia moved to a different location, the staff discovered that the change to the larger facility, combined with the chaotic nature of their environment, generated new challenges. Some of them turned to Search Inside Yourself Leadership Institute* to introduce mindfulness practices into their workplace and learned that changing an organization's culture takes energy and time. But the returns-relating to greater willingness to engage in dialogues and activities around wellness-are worth it.
In this guest blog, Emergency Physician Shahina Braganza and ED Medical Education Officer Jessica Young, who both work in Australia's Gold Coast Hospital and Health Service, share how SIYLI's mindfulness practices led to the creation of oneED, a department-wide wellness initiative that has helped all clinical and non-clinical staff thrive.
Our emergency department is the busiest in Australia, staffed by hundreds of doctors, nurses, allied health, administration, and ancillary staff across two campuses. Despite the hectic environment, we work with a great team and consider ourselves to be privileged to be in our department. But in 2013, a move into a fancy new hospital, along with the increasing busyness of our work culture, suddenly made it challenging to remain connected with our team-and with our patients-on a deep and meaningful level.
We were probably collectively burning out, and no doubt this affected the joy we took in our roles and likely also affected our patient care, at least at a humanistic level. We read some of the literature on burnout and the dots started to connect. At the behest of a contagiously enthusiastic junior doctor, Dr. Gideon Diamond, we looked at what SIYLI offered and a small team of champions attended the organization's two-day course. We returned blown away not only by how powerful it was, but by the fact that the practices lent themselves to being shared with our colleagues within the workplace.
As momentum gathered, we wondered if there might be an appetite for an abridged version of SIYLI's program to be conducted at our hospital. Gideon audaciously invited a SIYLI instructor Craig Davis who travelled from Sydney and conducted the program, which was attended by 90 emergency department and other staff. Craig's closing advice to us was, "If you set the intention, providence will follow."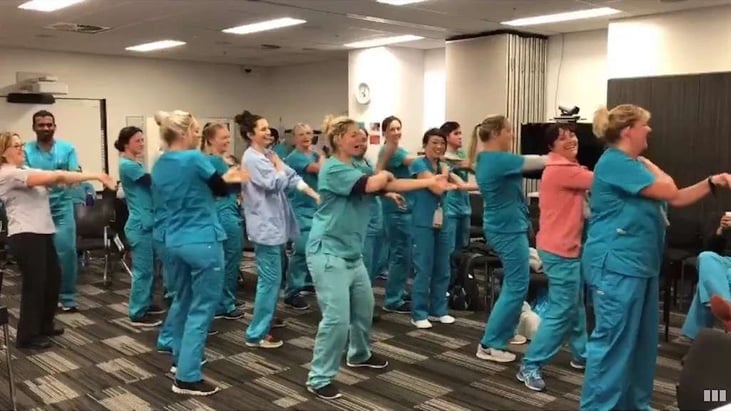 Nightshift mindfulness: We adapted meditation to the Macarena in response to the nurses' feedback that stillness prior to a chaotic shift didn't always sit right.
The SIYLI practices triggered a groundswell, and we built a program that we called oneED-"one" because we wanted to be inclusive of all of our staff and create a sense of belonging, community and connectedness. Its basis was in mindfulness, but its goal was modest: to start a conversation about wellness and struggle-and give each other permission to experience both.
We now conduct a four-minute pause-a commentary, video, and brief guided meditation-during weekly handovers, offer weekly Mindfulness Moments, and have flyers posted around our department, inviting staff to take a moment to check in with themselves. We have opened our sessions to other departments at the hospital, as well as other emergency departments around Australia and the world.
Throughout the process, we have learned three valuable lessons:
We had worried that health professionals might not be open to the idea of mindfulness, and it certainly can be a polarizing concept. The majority of our staff has been surprisingly supportive and engaged. For our part, we've been responsive and adaptable with feedback and allowed the program to evolve organically.
A key element has been the endorsement of our directors, who helped make the elements of our program "business as usual." On one particularly busy handover session, there was a sense that staff were overwhelmed and simply wanted to crack on with the work of the day. Our deputy director declared: "The day we are too busy to pause is the day we need it the most."
Initiation has taken investment by champions, fueled only by passion and goodwill. Slowly, oneED has become part of the fabric of our workplace. We learned that changing culture takes energy, and it takes time-but it is possible.
We have presented our program around the world, for example at Stanford Medicine X in the U.S. and London Health in Ontario, Canada. Staff from around Australia and the UK have visited to see our program in action. We are working together to promote workplace wellness, via mindfulness and other strategies, as an organizational priority.
We have discovered that mindfulness is like any other skill: The more we practice, the better we become at it. The SILYI program triggered our department into a journey of discovery about how we could be better and do better. We learned about conscious awareness and being truly present, even in the midst of our noisy lives, not just with ourselves, but with each other and-most importantly-with the patients we treat.
*Note that in 2022 SIYLI split into to entities: a nonprofit arm (SIYLI) and a for-profit public benefit corporation (SIY Global). More info can be found about the sister organizations here.
Bring a Program to Your Organization